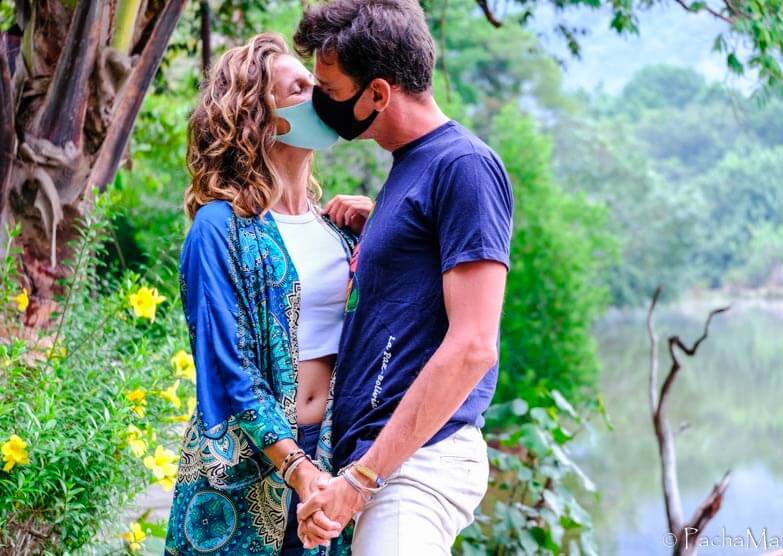 20 May

The value of taking away

As some of you already know, Marco and I are living through a somewhat particular quarantine: at the beginning of the chaos, when all the countries of the world began to apply their restrictive protection rules, we were on a small island in the Thailand.
We hadn't stopped for more than 10 days in the same place for months and so, waiting to understand how things would evolve, we decided to put down our backpacks for a while and wait.
In a small fishing village built on the water we found our stilt house: a Thai-style guest house, built entirely of wood, a small kitchen with a single stove and a wonderful pier overlooking the sea that has become our favorite place. We've been stuck here for over a month, trying to quench our desire to travel: our small part in this collective battle, yet we don't feel like we're in forced quarantine.

I realize that I feel happy and grateful, not for having been lucky enough to find myself in this paradise, but for the choices I had the courage to make that changed my life long before any of this happened.
What I want to tell you has to do with the Corona Virus only from afar, and it started when we left for our trip, now 6 months ago; it has to do with OUR quarantine, very different from what most of you have been forced to experience.

I continuously read your moods, social media are full of messages, videos, photos, cartoons on Covid 19 and I am sorry to see that they are almost all sad, negative messages, of lack, of suffering for what you don't have and don't , I don't want to be told that it's easy for me, because I spent the quarantine on a beautiful island in Thailand. That's not the point. This article is for everyone who thinks life would be beautiful and simple "IF only I had", "IF only I could"; for those who all life is always IN THE PROCESS OF. About to go on a trip, about to move in with the person they love, about to change jobs because their job sucks, about to take some time for myself, about to…

To anyone who thinks so, I want to say one thing: Marco and I have been in quarantine for eight months. Exactly, you got it right. No virus forced us to be together, we decided it.
Now that you've been locked up at home for weeks with your companions, you realize how difficult continuous closeness can be; well I don't know if you've ever thought about it, but a journey like ours, on an adventure, often with few comforts, is an existence always in close contact, 24 hours a day, 7 days a week.

There hasn't been a day in the last 8 months that Marco and I haven't spent together and I won't hide it from you, they haven't all been good days! The privacy? It no longer exists. Forget about keeping the things you think most embarrassing to yourself, because sooner or later you'll get that fulminating shit while traveling and you'll need someone to make you hot tea. There will be many sleepless nights in the bus or in the tent and you won't be able to do your make-up or fix your hair. I read desperate posts from women who can't go to the beautician: girls, if your partner hasn't seen you yet with a little more hair, that's the real tragedy!

The reality is that you don't like the quarantine because it has brought a bit of truth into our muffled and often very artificial lives: our daily life now takes place only on the phone, our business cards are our instagram profiles. Even now, we are all focused on making ourselves more attractive on instagram, such as innovative and captivating content to post, only to ignore the fact that our daily lives have stopped in a place from which we are not free to escape.
The value of taking away
Before meeting Marco, I too would have faced the quarantine like a nightmare; when we met everything changed and today I see it differently: sooner or later we should all "lock ourselves up" in quarantine somewhere alone or, why not, with the person we love. We have chosen to do it by travelling, focusing our attention on ourselves and on our new life to share: it may seem like a hard change at first, one may feel uncomfortable outside our habits and our comfort-zone, but this that doesn't mean it doesn't do us any good to change perspectives and priorities from time to time. It is shocking how illogically detached we are from the reality of our lives, not realizing that every moment of the day offers the opportunity to be consciously relaxed and responsive or to suffer needlessly.
The harsh impact with reality, which I like to see as an awakening of my awareness, was for me the encounter with the love of my life. I now realize that for most of you it was this virus that was so powerful. Powerful not because it has the power to take our lives, powerful because it has the power to make us understand its value. So what have we learned from this quarantine?
I, for my part, have learned the value of taking away.
In these months of travel I've learned that to change myself and my life I have to start from within and to do so you don't need to add skills that I don't have yet, rather you need to remove all that is superfluous that I wasn't able to before to see: the phone at hand all day, the computer always on, the 100 clothes in the closet that I never wear, the anxieties of not being up to it, the fears of not getting where I want, the imperfections that make me less beautiful.
Each of us has experienced his own quarantine in recent months and however shared our fate may have been, everyone has experienced something never experienced before. Many will see in this experience more what they have lost than what they have gained, but the paradox is that perhaps we have gained the value of losing… don't you also notice the irony of all this?